---
Der Sänger und Musiker Vitali Maembe
Impfstoff gegen Korruption: http://chanjoyarushwa.blogspot.de/
---
A project of Global Voices, we are a global anti-censorship network of bloggers and activists dedicated to protecting freedom of expression online.
https://advox.globalvoices.org/categories/world/sub-saharan-africa/tanzania/
---
---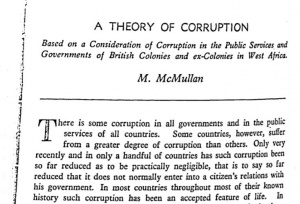 in: The Sociological Review, Volume 9, Issue 2, pages 181–201, July 1961
Versuche, das Phänomen der Korruption gibt es schon lange. Eines der Grundlagenwerke zu der Frage mit Bezug zu den britischen Kolonien stammt aus der Soziologie in  1961.
Mehr als 50 Jahre später nach allem theoretische und politischen Bemühungen, vielen Studien, Seminaren und Büchern, sind die praktischen Fortschritte gering. Die Korruption geht in vielen Teilen der Welt weiter und nimmt sogar noch zu.
Die Schwierigkeit der Korruptionsbekämpfung wird vom tansanischen Karrikaturisten King Kinya wie folgt skizziert.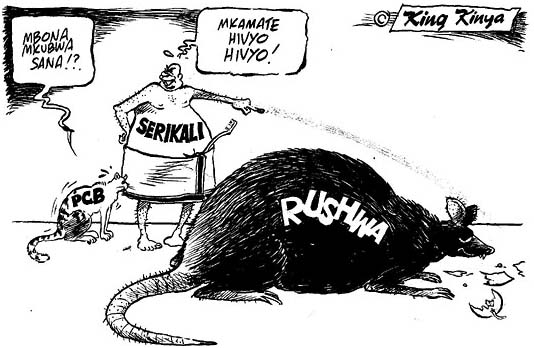 Die Regierung beauftragt die als Katze dargestellte Anti-Korruptionsbehörde, die Ratte Korruption zu jagen. Doch kleinlaut antwortet die Katze: "Aber die ist doch so groß."