The novel "Rushwa" was translated to English and given the titel "Dark money in Dar es Salaam".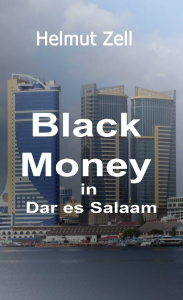 Helmut Zell: Black Money in Dar es Salaam: A Novel about Love and Corruption, BoD, Norderstedt, 2nd ed. January 2022, ISBN: 978-3749496877,
Paperback 320 pages, 12.99 €;
E-Book 2,99 €.
For more information here the flyer: 

Order the book at Amazon here
Order as ebook in Kindle format here
Order the book in print at Books on Demand here
Order as eBook at Books on Demand here
And here the whole book as pdf-file Free download
Also you can buy the book in print at the bookstore A Novel Idea at Msasani Slipway in Dar es Salaam or Arusha.
---
Reviews
The Black Mzungu
Well written and suspenseful
Rezension aus den Vereinigten Staaten vom 25. Dezember 2022
Very suspenseful and riveting. Relatable due to being an expat in Tanzania. Also a clear and. Well organized writing style.
Light and shadow in development projects – highly exciting reading
Rezension aus Deutschland vom 19. Februar 2019
I enjoyed reading this book. Some years back I visited Tanzania as tourist and still maintain a close interest in ongoing events in the country. Therefore, I came across the book, which is a brilliant story showing the (unexpected) adventures of a German consultant joining a project to rehabilitate the railway line, from the Indian Ocean to Lake Tanganyika. The scenes are arranged in chronological order, which makes it easy to follow the tale. The story takes place some times earlier but also describes some events hundred years ago when the railway was build under German rule. Interwoven in the story is the German-Tanzanian love story between the protagonists Paul and Vivian. As reader, someone wonders whether the story is fictitious or the author experienced it himself. The author demonstrates a good understanding of present economic and political challenges the country is facing in the African context. If you like adventures und are interested in Africa, it is a good choice for reading. If you have some personal interest or connection with Tanzania or East Africa you will definitely love this book. You will learn about more recent events like the increasing activities and influence of China. This book should be made into a movie.
Rezension aus Deutschland vom 3. Januar 2019
Good read and great to learn about Tanzania in general and Dar es Salaam in particular.